Fly-In, Alexandria, MN (KAXN)
Free Pork BBQ Dinner
July 27, 2012, 5pm to 8pm

Stop by on your way to Oshkosh.

Join On His Wings Foundation as we introduce our new water packaging machine to be used to manufacture water on-site after a disaster.

Meet Dan Spencer of Samaritans Purse. Dan and his family are missionaries in Liberia, Africa. Dan will share stories of his life as a helicopter mission pilot in Africa and help bring attention to mission pilot operations.

Fun for all ages. Bring the kids.

Good flying, good food, good friends and great fun!

Live music after 8pm.

Click for Fly-In Brochure

Join the Facebook Event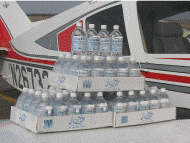 One of the most important needs after a disaster is pure, clean drinking water. Living Water labels are printed in the language of the affected community with an inspirational message from God. Each bottle of Living Water acts a seed, meeting both physical and spiritual needs.

On His Wings has distributed nearly 10,000 bottles so far. Our goal is to give away 1,000,000 bottles. Sponsor a case of Living Water. Donate Online



On His Wings Foundation is a 501(c)(3) non-profit organization dedicated to providing international disaster relief with the assistance of volunteer aviation.




Provide an immediate response to disasters, delivering help, volunteers, and supplies.

Provide

knowledgeable assistance to pilots, aircraft owners, aircraft mechanics, and others, volunteering their time, skills and their aircraft.





Plant the seeds of hope with Living Water bottled water with an uplifting message to meet both physical and spiritual needs.





Logistical management of donations that are needed to provide an appropriate response to a disaster.





Ongoing support and logistics to help those recovering from the aftermath of a disaster.

Have you ever wanted to offer your assistance after a disaster? As an aircraft owner, pilot, or aircraft mechanic, you are uniquely qualified to help. Get involved before disaster strikes. If you would like to donate the use of your aircraft or time, contact us for more information on how you can get involved. As an added bonus, your donations and expenses incurred assisting On His Wings Foundation are tax deductible. Enjoy the camaraderie of others in aviation while experiencing the satisfaction of helping people when they need it most.
Sign me up.



Shop and Donate for Free

You can help On His Wings Foundation just by shopping. Click on the GoodSearch button or the link below and simply shop online at your favorite stores. Shop for Computers, electronics, cell phones, office supplies, auto parts, flights, hotels, insurance, or just about anything. It costs you nothing, and On His Wings Foundation will receive a donation on your behalf. It's that simple.

Shop Now